Mike Dumbleton is a writer and Literacy Consultant.  He has worked in South Australian High Schools, New York City schools and as a Literacy Curriculum Officer for the South Australian Education Department. In addition to children's books, he has written a range of educational texts.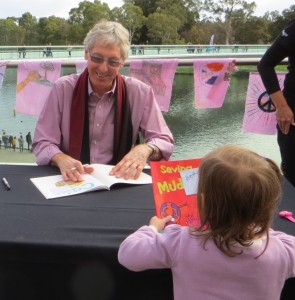 Part of his interest in writing stems from the fact that his grandfather was a local poet in an Oxfordshire village in England, who regularly recited his poems to the family, with or without requests!
Mike came to Australia with his wife Linda in 1973. He was always interested in writing but a young family and many sporting activities kept him fully occupied until he decided he wasn't getting any better at basketball and his three children were old enough to allow him some uninterrupted time. He then began writing picture books at the same time as devising educational texts for teachers.

His first book, Dial-a-Croc, published in 1991, was a great success and since then he   has written many more titles.
The book Mr Knuckles was adapted for the stage by the South Australian Children's Theatre Company, and Pumped Up, a short story about basketball, 'magic' shoes and an adventurous grandfather, was adapted for television by the ABC.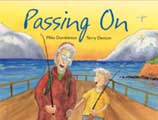 Mike's picture book Passing On, was shortlisted for the Children's Book Council of Australia 2002 awards.  Muddled-up Farm was selected as 'Speech Pathology Australia Book of the Year 2003' as well as the 'National Simultaneous Storytime book for 2004'.
Mike's work was recognised in 2001 with a grant to support the completion of his first teenage novel Watch Out For Jamie Joel. It was subsequently shortlisted in the 2004 Festival Awards for Children's Literature. He was also the recipient of a 2005 Minister's Award for Outstanding Contribution to Improving Literacy, which recognises his work both as an educator and a writer over an extended period of time.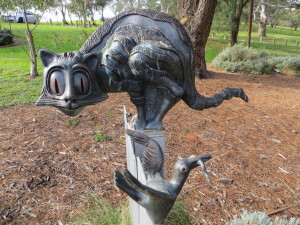 Mike's picture book Cat was the winner of the 'Picture Book to Performance Project' for   2007 and was developed into a play by Windmill Performing Arts which had its premier in Adelaide before seasons in other Australian cities and Singapore. Cat was also selected as an Honour Book in the Early Childhood section of the 2008 Book of the Year Awards.  After an extended stay in France, Mike wrote the book Digger which poignantly commemorates the second battle of Villers-Bretonneux on Anzac Day, 1918.  Anisa's Alphabet was Mike's 10th CBCA Notable Book.  It was also a 'White Ravens International Children's and Youth Library Selection' for 2021.  Mike's latest releases are Let the Singing Begin (co-authored with his wife Linda) and Hair, a  fun picture book which is his 50th publication.
After many years of teaching in South Australia, Mike enjoyed the chance to work in New York City, supporting students, teachers and leaders with literacy development.  Whilst in the U.S he took advantage of the opportunities for travel, learning more about the history of the country and swing dancing!  He is pleased to be back in Australia, closer to family and friends and the relaxed lifestyle.   In his spare time Mike enjoys travel, trying to keep fit, jazz and watching sport.